Lessons

At Port Huron Music Center, We've got you Covered!
10 Lesson Rooms

Private and Group lessons are available
We can accommodate your needs...
Want to Move up a Few Chairs?

Master a Particular Skill?

Lose Some Bad Habits?

Work With a Professional Instructor?

Get Ready For an Upcoming Competition?
We can help you!
With a Professional Instructor by your side, you can learn the easiest way to play the type of music that drives you. In just a short time you can be playing and enjoying the benefits of making music even if you have never payed before.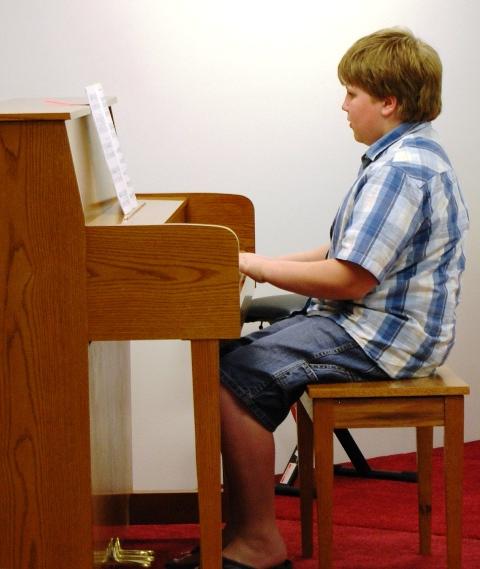 Greg C. -
Guitar: Rocking the clubs of Michigan and beyond is Greg Campbell. Greg has been playing guitar for a couple weeks now. Long weeks. Longer weekends! His fingers can fly and he knows all the hot licks you're dreaming about learning. His schedule is pretty full, you might have to wait in line, but when you're learning from a pro you're learning it right.

Steve S. -
Guitar:
Rock, Metal, Blues, Slide, Classical, Jazz, Real Book, TAB, Bluegrass, Country, Chet Atkins styles, Theory, Improvisation, and Arrangements! Steve has also been the Staff Classical Guitar Instructor at St. Clair County Community College since 1979. Steve obtained his Liberal Arts Degree in Music at Wayne State University. Steve has also performed at Montreux Jazz Festival in Detroit and was the solo performer at the Victorian Inn for six years.

Jo S. -
Flute:
A graduate of the University of Michigan, Jo is a well established flutist throughout the Midwest for performing, teaching, and directing flute clinics. Currently, Jo can be found performing in the International Symphony Orchestra, Cushion Concerts for schools, flute choirs, and woodwind quartets.

Lynnea M. -
Clarinet: Lynnea
has played clarinet for over 20 years. She played principal and second clarinetist for multiple honors and all star bands. She was a full-time member of the Sault Symphony Orchestra for 4 years, and in 2009 professionally joined the Marquette Symphony Orchestra. While playing in Marquette, Lynnea worked with local high school band directors and began teaching privately. She recently moved to the Blue Water area and now has joined the staff at PHMC. Lynnea teaches using an individualized approach, combining multiple methodology techniques for a learning environment unique to the abilities of each student.

Andrew B. - Saxophone:
Andrew has been a saxophone player since 5th grade, more than 15 years ago. He progressed through high school, joining the Marching Band and Jazz Bands. During his college years, he joined the Jazz Band where he strengthened his enthusiasm and love for jazz by excelling at improvisation. Andrew is very passionate about music and continues to enjoy playing and teaching the saxophone. He is wholly invested in sharing his enthusiasm for the saxophone with others.


Liz P. - Saxophone:
Liz joined band in elementary school and played throughout high school. Upon graduation she joined the U.S. Marine Corps Band for 20 years and traveled throughout the United States and the Far East. The experience was wonderful as she played with people from all over the world. Liz returned to Michigan and plays with her community church. She has a passion for music and would like to share that passion with you.


Dave K. - Trumpet:
Dave has his Bachelors and Masters degree in Music Education at Wayne State University, and has studied trumpet with the former principal trumpet player of the Detroit Symphony Orchestra. Dave has taught lessons for over 30 years on trumpet, french horn, trombone, baritone, and tuba. He has played professional trumpet for over 40 years and has taught middle school band for over 20 years.
Geno K. -
Piano, Violin, Viola, Cello, Voice
: I started my journey in music when I decided to take lessons on the violin, at the age of 5. I played for many years in both the Dearborn Youth Symphony and the Livonia Youth Symphony. My passion for the violin was tested as I worked tirelessly to compete in the Great Lakes Regional-American Guild of Music Competition, where I was awarded 1st place in multiple categories, for many consecutive years. While attending Henry Ford College in Dearborn, I was awarded a scholarship for the vocal program. I completed an Associate of Arts-Music, with a concentration in Vocal performance. I have spent the last 10 years teaching students from 3 to 70 years of age. I have taught Violin, Viola, Cello, Mandolin, Guitar, Ukulele, Piano and Voice. I like to take a calm and caring approach with students, while instilling in them good technique and practice habits. I will give my students as much as they can handle, instilling in them the passion for music that is in me. It's always a great reward..

Katerina P. - Violin

:
Beginning music lessons as a small child in Kazakhstan in the Soviet Union, Katerina spent every school year in music-focused program and learned violin, cello and piano. She progressed to becoming a teacher and performer of classical music. She worked as a violin teacher and an orchestra musician in state-run music schools and orchestra in Almaty, Kazakhstan. By 2004 Katerina moved to the U.S. and began working as a private instructor for violin, viola, piano and cello. She is a former member of first violin section in the ISO.